Engage and Change is a charity that was created to foster good citizenship and encourage healthy communities by giving back. Engage and Change gives people and companies the opportunities to do hands on group volunteer projects that assemble and build kits to assist in the alleviation of poverty. These kits are then distributed to the local communities through frontline social service agencies and homeless shelters directly to those in need.
To assist those in need in our communities by promoting, identifying, and developing partnerships between individuals, for-profit, and not-for-profit organizations. We will stand out from other charitable organizations by designing events that will engage individuals, who will contribute their time, and businesses who will contribute money and product. They will assemble kits containing supplies for everyday survival that will be distributed, through not-for-profit organizations, to those who need them. We will inspire people and businesses to engage in a hands-on experience with a tangible outcome that will change the daily lives of people in our communities.
Founder of Engage and Change & President and CBO of Bargains Group
As President and CBO (Chief Bargain Officer) of The Bargains Group, Jody Steinhauer has mobilized her award winning discount wholesale and promotional products company to revolutionize the business landscape.
Pioneering her belief of "giving back makes good business sense", Jody Steinhauer uses her network of resources and leveraged buying power to aid every company and not for profit agency that she touches to maximize their buying dollar. She is also often sought out for speaking engagements due to her 30 years of successful entrepreneurial experience, and has been featured in various media outlets, and is an official Huffington Post blogger.
A tireless not for profit advocate, Jody is the founder of Project Winter Survival and Project Water, two annual initiatives that help thousands of homeless throughout Toronto. Jody and the Bargains Group also supply hundreds of similar projects across Canada.
"Engage and Change" is Jody's most recent focus which aims to bridge the gap that exists between the growing need for resources in Canada's social sector and the abundance of this country's intellectual capital that remains heavily untapped. This initiative will engage and enable citizens of all ages to donate their time to their local community primarily through nationwide integration in school curriculums and sponsored group engagement events.
Jody's passion for helping others has expanded to include a social enterprise wing: Kits for a Cause. Inspired by Engage and Change's signature events, with a focus on social impact, Jody has built a model for companies to support their local community. Kits for a Cause provides turn-key solutions for businesses to engage their employees while solving local community services' needs for resources. Her model of "brokering goodness" has worked with some of the top industry leaders in both the corporate and philanthropic spheres.
Jody's achievements include:  Rotman Canadian Woman Entrepreneur of the Year Award, Canada's Top 40 Under 40, Toronto Board of Trade-Business Excellence Award, Kaufman Community Award, FLARE Magazine Volunteer of the Year-two time finalist, PPPC Award for Humanitarian of the Year, Women of Influence Local Hero Award, Canada's Most Admired Corporate Culture Award-two time finalist, Canada's Profit W100 Recipient, and recipient of the TD Paul Croutch Award.
Secretary-Treasurer, Engage and Change & Retired Partner, KPMG Enterprise
 As a Partner in KPMG LLP's private enterprise group, Rhonda provided business advisory services, including audit and tax, to privately owned companies in the real estate and consumer market sectors and not-for-profit corporations.  For twenty years, Rhonda was part of the leadership of the GTA Enterprise practice; as the Human Resource partner she was involved in policy and strategic decisions, recruiting, performance management and pay planning in addition to her client responsibilities.   
Currently, Rhonda is an independent consultant to a commercial real estate developer, a former client, and enjoying other personal and community activities.  Recognized for Community Leadership by KPMG LLP in 2014, Rhonda has been involved with Engage and Change from its inception and is currently the Secretary-Treasurer of its Board of Directors.
Director, Programs – Caldwell Partners
Michelle is the Director, Programs for Canada's Top 40 Under 40® and Canada's Outstanding CEO of the Year®, two leadership awards programs owned by executive search firm Caldwell Partners. An experienced program director, Michelle leads all aspects of the programs which involve the search for and selection of recipients across Canada, as well as media recognition and outreach. She has P&L responsibility, oversees strategic partnership and sponsorship development, manages two independent advisory boards each comprising over 25 industry experts, and is responsible for marketing and communications and all events related to both programs, including two annual fundraising galas.
In her spare time, Michelle is an artist and supports many charitable fundraisers through donated paintings, workshops and live demonstrations, some of which include United Way of Greater Toronto, Soldiers Memorial Hospital Foundation, Grocery Foundation Night to Nurture Gala and the Teddy Bear Affair supporting the Children's Aid Foundation.  A recipient of several "Best in Shows", she is a member of Toronto West Arts Collaborative and the Columbus (Georgia) Artists' Guild. Michelle is also a volunteer trainer with the Mississauga Girls Hockey League.
Global News Chief Meteorologis
Growing up on the West Island of Montreal, Anthony Farnell developed a love for weather early on. At elementary school he remembers spending most of his time looking out the window at developing cumulus clouds. In 1998, his love for weather grew further as he lived through the "Ice Storm of the Century" in Montreal. Anthony brings his weather knowledge and experience to Global News where he recently celebrated his 10th year.
Highlights of Farnell's career include covering the record-breaking winter of 2014 and the 2013 Christmas ice storm in Ontario that left thousands of GTA residents without power for weeks. As Global National's top weather expert, he reported live from Gravenhurst, Ontario, just hours after one of the largest tornadoes in Canadian history struck. He has also covered many hurricane's including the devastating effects of hurricane Sandy in 2012.
After graduating with a BSc. in Meteorology from Vermont's Lyndon State College in 2003, Farnell began his on-air career at KPAX in Missoula, Montana as a morning meteorologist. Farnell returned to Montreal in 2005 where he worked briefly at Bellator Energy trading weather derivatives. That same year, Farnell joined Global Montreal's evening newscast but quickly moved to Global Toronto to become their Chief Meteorologist in 2006. Since then, Farnell has expanded his reach and now brings his weather forecasting skills and personality to all four Global News markets in Eastern Canada, from Halifax to the GTA. He can also be heard giving his seasonal forecasts across the Corus Radio Network.
Anthony Farnell has been a long time supporter of the Michael Garron Hospital, formerly TEGH. He helps out several local charities, including Muscular Dystrophy Canada, H2O4All, HOPE, Safehaven Project for Community Living and Engage and Change. He also makes time to visit schools and local libraries where he and his sidekick, Storm the Weather Dog, teach kids all about meteorology. Besides being a great friend of Farnell's, Storm is famous in his own right; he's been featured on numerous national newscasts like CNN & Good Morning America and even made the late-night rounds on Jimmy Kimmel and Conan.
Off-air, Farnell loves to hike, bike and ski and often visits his parent's cottage in the Northeast Kingdom of Vermont. His hobbies also include beach volleyball, water polo and drinking craft beer, but his number one hobby will always be the weather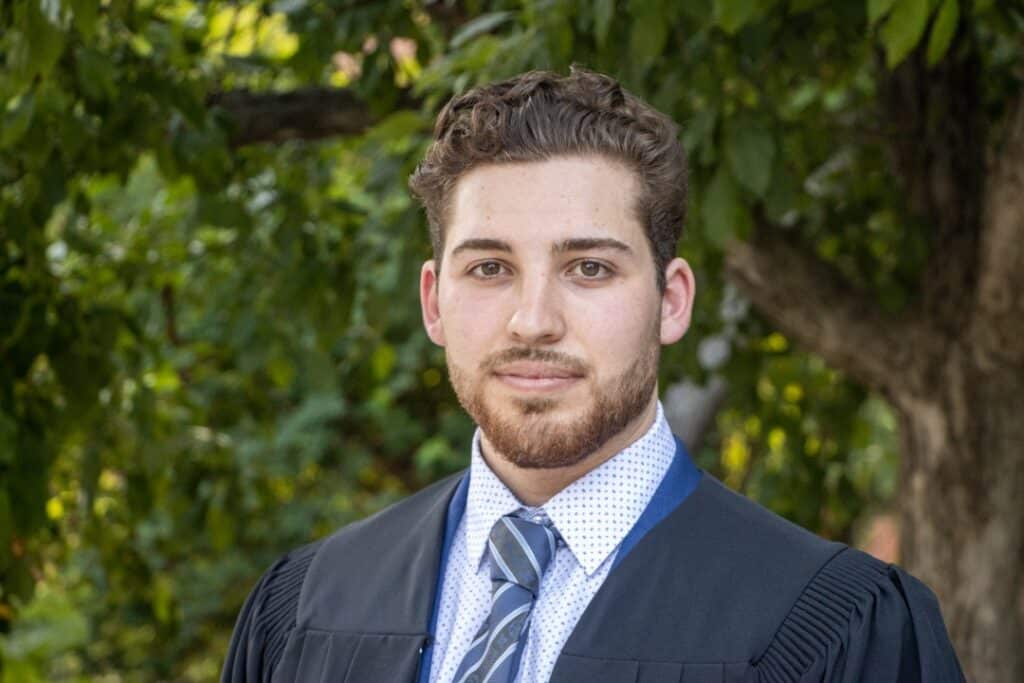 Analyst, Business Development – Optimus SBR & CEO/Founder – JP Productions
A recent graduate from the Gordon S. Lang School of Business and Economics at the University of Guelph, Jaden channels his academic insights into real-world applications. An analyst at Optimus SBR, he is a key contributor to the Business Development division and he plays a pivotal role in shaping data-driven strategies that resonate with business needs. In parallel, his entrepreneurial drive is evident as the founder of JP Productions, where he's transforming the realm of media production with innovative solutions.
Jaden brings a new perspective to the team at Engage and Change as one of the board's newest members, connecting generational views. His youth not only brings enthusiasm, but also fresh ideas for marketing campaigns and overall strategy. His unique position, being at the crossroads of recent academic learnings and hands-on entrepreneurial endeavors, ensures that Engage and Change benefits from both the latest theoretical insights and practical, on-ground strategies.