Google Alert – Project Winter Survival – Jan.18, 2020
Google Alert – Project Winter Survival – Jan.18, 2020
Volunteers in North York pack 3,000 'survival kits' for city's homeless
Project Winter Survival founder 'sickened by the amount of need'
NEWS 06:00 AM BY ANDREW PALAMARCHUK TORONTO.COM
Project Winter Survival founder Jody Steinhauer provides a survival kit to a man experiencing homelessness on Saturday. – Mykl Greenbloom photo
The winter snow and cold have arrived. But homeless people may be able to weather the elements better thanks to a community and corporate effort.
On Saturday Jan. 18, more than 150 volunteers packed 3,000 "survival kits" that will be distributed to those in need this winter, through more than 200 social service agencies, homeless shelters and outreach providers in the Greater Toronto Area.
Each volunteer was sponsored or had raised at least $1,000; the 3,000 survival kits are collectively worth about $500,000.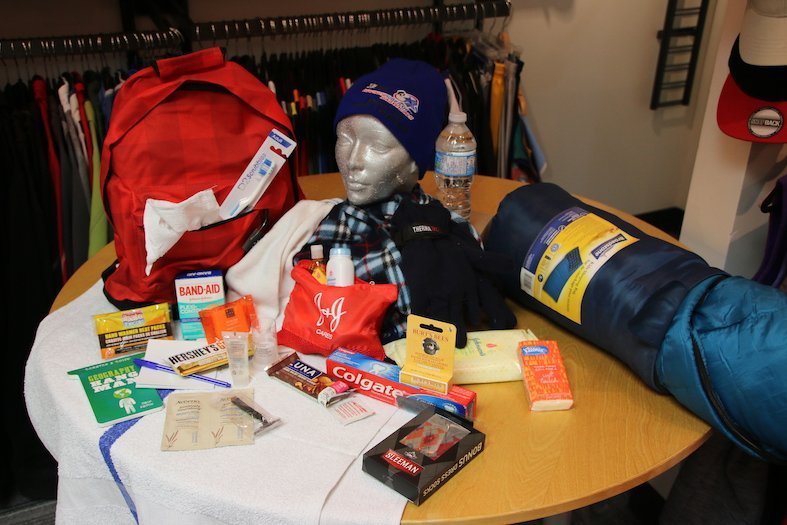 The contents of the winter survival kit include a sleeping bag, along with a variety of essential items pictured here. Bargains Group Ltd. photo
Related Content
Each kit includes a sleeping bag, that comes in a reusable stuff sack with a shoulder handle, and a backpack filled with essentials such as a toque, gloves, socks, deodorant, shampoo, toothbrushes, lip balm, moisturizer, bandages, a towel, a face cloth, water, healthy snacks, a pen, a pad of paper and even a puzzle book to stimulate the mind.
"It's survival because if your body is cold, a sleeping bag is what's going to keep you from freezing and hypothermia," said Jody Steinhauer, a lifelong North York resident who started the project. "And the hygiene kit is from a dignity perspective. … If you feel better about yourself, hopefully you'll have the wherewithal and hope to take that one step forward."
The annual initiative, dubbed Project Winter Survival, took place in the warehouse of the Bargains Group, a discount wholesaler at 890 Caledonia Rd.
"The event is a really large-scale, fast-moving machine," Steinhauer said.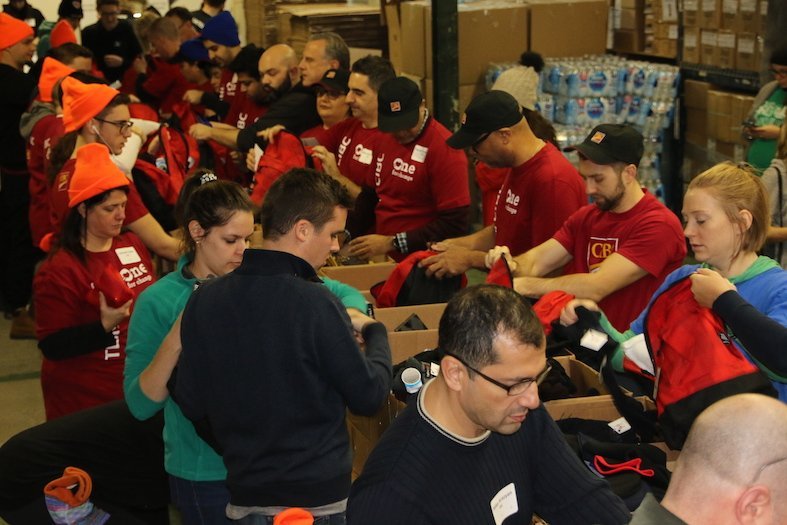 Volunteers pack winter survival kits at the Bargains Group warehouse Saturday, Jan. 18, as part of Project Winter Survival. Bargains Group Ltd. photo
Most of the volunteers were part of corporate teams. CIBC is Project Winter Survival's top sponsor.
Charmaine Kong, a volunteer who raised $1,000, said she got involved after seeing marginalized people in her downtown neighbourhood. "It really pulled on my heartstrings when I saw the same man sleeping at the bus stop every day," she said. "I wanted to give back to the community."
Steinhauer, who is also president of the Bargains Group, founded the project 21 years ago after being "just sickened by the amount of need" out on the streets.
As a business leader, Steinhauer said, she began to reach out to the business community to raise money for the cause.
"We've cumulatively done 38,000 Project Winter Survival kits over 21 years."
About seven years ago, Steinhauer established a charity called Engage and Change to run the project along with Project Water, a summer initiative that provides survival kits to combat dehydration. The charitable status enables donors to the projects to receive tax receipts.
According to Engage and Change, 57 homeless people died in the city in 2019. More than 9,500 people in Toronto are homeless on any given night, the organization said.
"In 21 years, I've never seen it so bad. There were over 18,000 kits that have been requested," Steinhauer said. "We need to open a few thousand shelter beds right away."
Steinhauer noted many may have misconceptions about homeless people, thinking they're lazy or are addicted to drugs or alcohol. "A lot of (homeless) people are people who have been evicted," she said. "There are so many homeless we speak to now who actually have jobs, but they've got nowhere to live. They're couch-surfing. We've got a woman who's living in a storage locker, so the (cost) of living in Toronto has become ridiculous coupled with the lack of shelter beds."
The survival kits, Steinhauer said, are only a Band-Aid solution. She said people should demand that politicians open more shelter beds. "And long-term, we need affordable housing and support services."
Sue Mercer, an independent event planner, began volunteering at Project Winter Survival four years ago after hearing Steinhauer speak about the cause. Mercer also helped plan Saturday's event.
"It always makes me realize that I am incredibly lucky to only have to stand outside for two hours to put backpacks in people's cars, and then I get to come inside and be warm and be fed and be safe," she said. "I'm appalled that there are people living on the streets and I want to do whatever I can to help, and I think that everybody who comes (here) feels the same way."
Mercer said it's "incredibly inspirational" to see 150 people coming together for a common cause.
"We make it as fun and interesting and exciting as we can. We keep everybody pumped up. We bring a DJ, who also volunteers," she said. "That engagement part is very important to us. … You want to make sure people are happy and not frustrated by the (kit packing) process."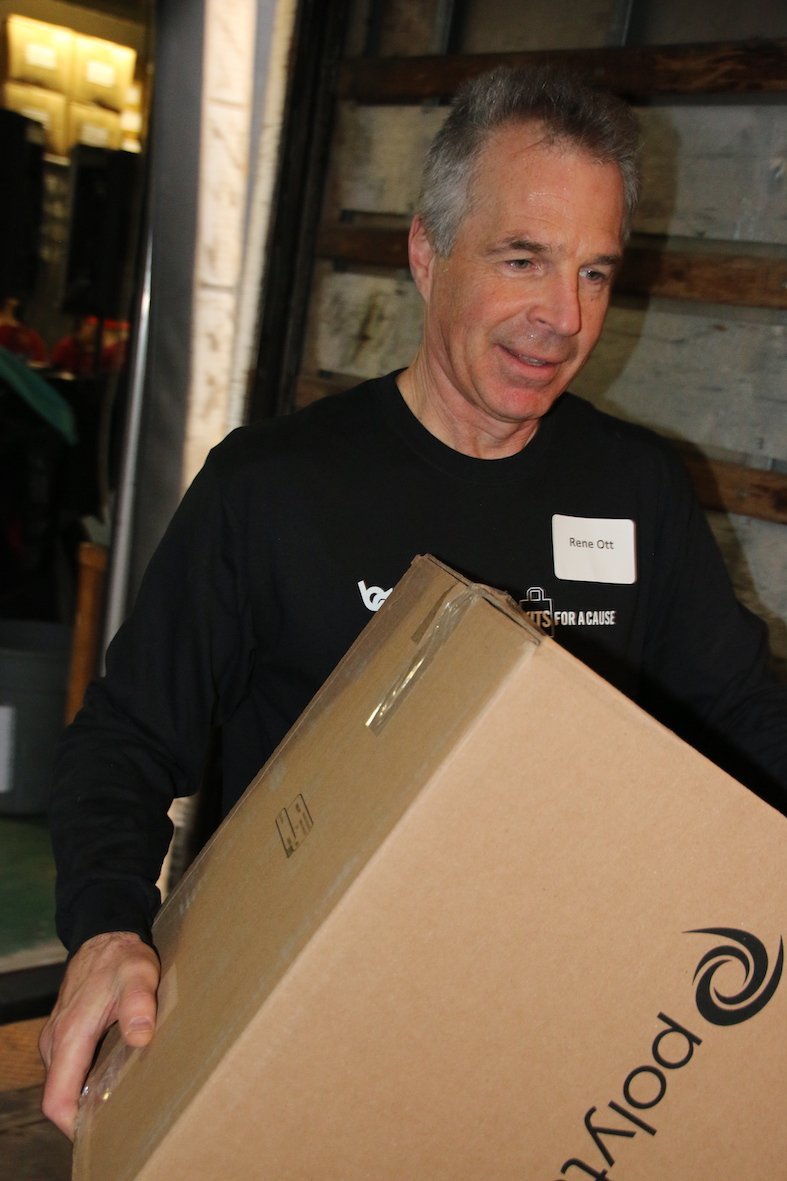 Rene Ott carries a box containing winter survival kits at the Bargains Group warehouse Saturday, Jan. 18, as part of Project Winter Survival. Bargains Group Ltd. photo
Volunteer Rene Ott, who raised $1,000, was moving boxes of survival kits to agency vehicles on Saturday. "It's a great cause," he said during a phone interview Monday. "Even though we think the winter wasn't that cold, it's plenty cold if you haven't got anywhere to shelter yourself."
Visit engageandchange.org for more information or to make a donation.
Disclaimer: These poll results are not scientific. Toronto.com uses a third party app, which does not restrict the number of times a person can vote in the poll. The poll is available to anyone with the article link, and is meant to be an engagement tool for entertainment purposes only.
STORY BEHIND THE STORY: When reporter Andrew Palamarchuk heard about the survival kit packing event, he wanted to hear more about how the annual project helps homeless people in Toronto.
Andrew Palamarchuk is a reporter with Metroland Media Toronto and toronto.com. He has been covering the crime beat since 2002 and has a passion for giving a voice to those affected by tragedy and looking at societal issues that may have contributed to it.Email: apalamarchuk@toronto.comFacebookTwitter
---